Specs
Product Name
ScanSnap SV600
General Technical Specifications
Scanner Type
Over Head system, simplex scanning
Scanning Modes
Color, Grayscale, Monochrome, Automatic (color, grayscale, monochrome detection)
Image Sensor
Lens reduction optics / color CCD x 1
Light Source
(White LED + lens illumination) x 2
Optical Resolution
Horizontal scanning: 285 to 218 dpi,

 


Vertical scanning: 283 to 152 dpi

 

(1)
Scanning Speed

 


(A3 landscape)(2)
Auto Mode(3)
"Better mode" or "Best mode": 3 seconds / page
Normal Mode
Color / Grayscale: 150 dpi, Monochrome: 300 dpi

 


3 seconds / page(4)
Better Mode
Color / Grayscale: 200 dpi, Monochrome: 400 dpi

 


3 seconds / page(4)
Best Mode
Color / Grayscale: 300 dpi, Monochrome: 600 dpi

 


3 seconds / page

 

(4)
Excellent Mode
Color / Grayscale: 600 dpi, Monochrome: 1,200 dpi

 


3 seconds / page(4)
Document Size
Automatically recognizes document size,

 


A3 (landscape), A4 (landscape), A5 (landscape)

 


A6 (landscape), B4 (landscape), B5 (landscape), B6 (landscape), Post Card,

 


Business Card, Double Letter (landscape), Letter, Legal (landscape) and Customized size (Max: 432 x 300 mm (17.0 x 11.8 in.),

 


Min: 25.4 x 25.4mm (1 x 1 in.)(5)
Document Thickness
30 mm (1.18 in.) or less
How to Start Scanning(6)
Select one of the below.

 


1. Normal scan: Press "Scan" button for every page

 


2. Timed interval Scanning (Timed Mode)

 


3. Page turning detection
Interface(7)
USB 2.0 / USB 1.1 (connector B Type)
Image Processing functions
Deskew by text on document,

 


Auto paper size detection, Auto image rotation,

 


Auto color detection, Book image correction(8)

 


Multiple document detection(9)
Magnification in Vertical Scanning

 


(length)
± 1.5 %
Power Requirement
AC 100 V to 240 V, 50 Hz / 60 Hz
Power Consumption
During operation: 20 W or less

 


During sleep mode: 2.6 W or less

 


During standby: 0.4 W or less
Operation Environment
Temperature: 5 °C to 35 °C (41 °F to 95 °F)

 


Relative humidity: 20 to 80 % (Non-condensing)
Dimensions ( W x D x H )
210 mm x 156 mm x 383 mm
Device Weight
3 kg (6.61 lb.)
Environmental compliance
ENERGY STAR® / RoHS / EPEAT Silver Compliant
Driver
Specific driver:

 


* Does not support Twain/ISIS®
Inbox Contents
AC cable, AC adapter, USB cable, Background Pad, Setup DVD-ROM, Nuance® Power PDF Standard / Nuance

® PDF

 Converter for Mac DVD-ROM, Extenders (x2)

 
Optical resolution differs due to different scanning single on the same document.
Scanning speed may vary due to the system environment used.
Switch between "Better mode" and "Best mode" depends on the length of the document, A4 (portrait): 200 dpi, A6 size or below: 300 dpi
Time between actual start of scanning (scanning pad) and finish scanning.
For documents of thickness over 5 mm, the maximum document size is 400 x 300 mm.
When performing continuous scanning, time is needed for the scanning head to return to its original position.
Compatible with USB 3.0 port but connection will run as USB 2.0 speed.
Automatically correct distortion caused by the curve of an opened book or magazine.
Digitize multiple documents by automatically cropping several documents in one scan.
A new perspective on scanning
The ScanSnap SV600 Contactless scanner provides a new perspective on document scanning. Easily scan newspapers, magazines, documents or books directly without cutting or damaging them.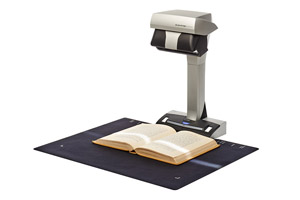 One-button overhead scanning technology
Scans bound material and flat documents
Scans an A3 size area in less than 3 seconds
CCD optic with fast LED illumination
Book curve image-flattening technology
Erase finger from image function
Auto crop, de-skew and rotation features

Features

Redefining what a document scanner can do!

The ScanSnap SV600 makes overhead scanning simple, providing users with limitless possibilities.

Scan:

Books
Magazines
Delicate documents
Original designs / notes
Business Cards
A3-size documents




Scan business cards to large A3 size (double-letter) documents

The ScanSnap SV600 breaks free from typical flatbed limitations by scanning 
content larger than just letter size. Simply position the document on the A3 scan mat and press scan.




Performance matters

With the touch of the power button, ScanSnap SV600 is ready to scan in just 3 seconds! And with each press of the scan button, a large A3 dimension scan area is captured in less than 3 seconds. Combined with intelligent image correction, great results are just a button push away.




VI Technologies (Versatile Imaging)

Combining high quality CCD optics and advanced LED illumination, ScanSnap SV600 uses advanced capture technologies to maximize field of depth and minimize unevenness page after page.




Multiple Document Detection

With an advanced cropping and orientation technology built-in, ScanSnap SV600 can scan several business cards, photos, newspaper clippings and other documents at one time. 
*Scan up to 10 documents at one time.




Easily create your own digital books

ScanSnap SV600 is your ultimate partner to scan books or magazines efficiently. 

Scan with one button! 
Place the book on the mat and press the scan button. 

Page Turning Detection 
SV600 detects when a page is turned and automatically begins scanning. 

Time Mode 
Set a fixed time interval and SV600 scans in real time with you.

Auto Image Correction 

Auto Image Correction 
Automatically crops, de-skews and sets the orientation of multiple sheets placed on the mat. 

Auto Book Correction 

Automatically flattens and corrects the curve distortion of books and magazines. 





Productivity Software for Mac and PC



CardMinder Business Card Software 

 



ScanSnap S1100i can quickly scan business cards, extract the content information and place it into editable fields that can be exported to Address Book, Excel, Salesforce, and other contact managers.
ScanSnap Organizer 

 



View, Manage and edit PDF and JPEG files scanned with ScanSnap on a Windows or Mac platform. Organizer allows users to convert scanned PDF files into searchable content, embed custom keywords, attach to email or SharePoint and remain productive with paperwork long after it is scanned.

ScanSnap Receipt  

ScanSnap Receipt allows users to easily scan and extract information from receipts, and export the data into CSV for easy tax filing. ScanSnap Receipt also supports multiple languages and currencies.* For PC and Mac.

See list of specifications.

***Supported languages: English, Spanish, French, German, Italian, Russian. Supported currencies: USD (United States Dollar), CAD (Canadian Dollar), GBP (Great Britain Pound), EUR (Euro), RUB (Russian ruble), AUD (Australian dollar). 

ABBYY FineReader Express Edition for Mac 
Quickly convert PDF documents into searchable PDF's with a simple drag and drop functionality of FineReader Express.




ScanSnap Sync

 

Quickly and easily synchronize your scanned documents between ScanSnap Organizer on your computer and the ScanSnap Connect App on your mobile device using Dropbox, Google Drive or OneDrive. ScanSnap Sync automatically synchronizes scanned documents between your computer and mobile device, giving you more flexibility to manage your scanned data. 

ScanSnap Folder*

Scan 'outside-the-box' into virtually any application or cloud service from PC. 

*ScanSnap Folder is only available on PC




More Ways to Scan to the cloud

Scan to:

Evernote
Dropbox
Google Drive™
Salesforce
SugarSync
SharePoint® (PC only)




Making ScanSnap Connect Application more convenient

With ScanSnap Sync, whichever device you are on, you can use scanned data from either ScanSnap Organizer or the mobile app ScanSnap Connect Application. ScanSnap Sync automatically synchronizes scanned data between the two. This gives you more flexibility for data management regardless of your location.

* ScanSnap Sync is realized by utilizing a third party cloud service such as Google Drive, OneDrive and Dropbox. For the latest support information of cloud services, please refer to each cloud vendor's website

Auto page-turn detection sensor
Timed interval scanning mode
USB 2.0 connectivity
Searchable PDF, PDF and JPEG creation
Single scan multiple document cropping function
Fujitsu FP 2000
No.1 printing speed in POS thermal printer
منتج يابانى عالى الجودة .. ضمان سنتين
الاسرع و الافضل فى طباعة الريسيت بدون اى انتظار
230 mm/s is the printing speed of FP-2000
It will be your best business partner.
See More